"Amoskeag: Life and Work in an American Factory-City"
Alice Marie (LaCasse) Olivier
John Clayton - February 9, 2004
Union Leader Staff
http://www.theunionleader.com/
The old family photo may be faded but the memories of Alice (LaCasse) Olivier (second from left) will remain vivid in the book called "Amoskeag." (LaCASSE FAMILY PHOTO)EVERY DAY, social historians tell us, we lose as many as a thousand of the men
and women who helped defeat tyranny and preserve freedom in World War II, heroic deeds that earned them membership in "The Greatest Generation."
In Manchester, we have our own variation on "The Greatest Generation."
It's sad to day, but every day we lose more and more of the men and women from the generation that toiled in the great mills that line the Merrimack River, and it is a terrible social and cultural loss.
Last week, we lost Alice (LaCasse) Olivier.
Fortunately, her story lives on.
It lives on in the pages of a seminal book about Manchester called "Amoskeag: Life and Work in an American Factory-City."
The book is a 1978 collaboration between historian Tamara Hareven and photographer Randolph Langenbach, who set out -- via oral history interviews and pictures -- to chronicle the deep-yet-sometimes-stormy bond that existed between the Amoskeag
Manufacturing Co., and its largely immigrant work force.
"By any standard, Amoskeag was a giant," the authors noted. "At its peak, in the early twentieth century, it was the world's largest textile plant, employing up to seventeen thousand workers. . . (and) there was hardly a person in Manchester between
1838, when the construction began, and 1936, when the mills shut down, whose life was not in some way affected by the Company."
Alice's family was deeply affected by the Company.
Her mother, Maria Poitras, came to Manchester from Trois Rivieres at the age of 16. She lived in a boardinghouse and worked at Amoskeag. In 1910, she married an Amoskeag mill hand named Alexis LaCasse.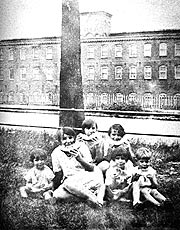 Down through the years, they had 12 children. When Alexis died at 44, the burden of supporting the family through the Great Depression fell to Maria and her two eldest daughters, Laurette and Alice.
"My father died in 1935 just a few months before the big crash, before the Company went bankrupt," Alice told the authors. "He was a second hand in the spinning room, and he never made more than $22 a week.
"From Friday 'til Tuesday, when he was paid in a paper envelope that he would bring home," she added, "there wasn't money in the house except for a penny for each child to put in the collection basket on Sunday morning and 15 cents for my father and
mother for the church."
What enabled the LaCasse family to get by -- other than faith -- was a low-cost apartment in one of Amoskeag's corporation tenements. The apartment was at 313 Canal St., at the corner of Canal and Middle.
It was always clean, but it wasn't plush.
"In the winter, Alice recalled, "a little bit of heat went to the second floor, but hardly any at all reached the third and fourth floors. My mother had a whole set of those old-fashioned irons with the detachable handles. We'd all undress
downstairs and we'd each get one of those hot irons that had been heated in the kitchen stove, wrapped in a towel. We'd run upstairs with the towel. . . and stick that under the covers, two or three of us in each bed."
Even before her father passed away, when Alice was just 12, she was asked to become a supplemental bread winner in order that two of her brothers -- who wanted to enter the priesthood -- could continue their schooling.
"My father desperately needed money," she said. "He couldn't support the family by himself. Jackman's boardinghouse was right next door, and they offered my parents to give me a job, which was really illegal in a sense, because I was so young.
"I worked in the kitchen and I got $3 a week -- which I gave to my mother -- plus my board. That was a big help to my family because I was a 12-year-old and I had a good appetite. In those days, $3 was enormous. Why, at the boardinghouse, they used to
serve a meal for 35 cents!"
At 14, when she finished grammar school, Alice took a job at Amoskeag.
"I was actually scared of the mills," she confessed. "As a child, I used to go and visit my father in the spinning room. You can't hear yourself talk in there, the noise is so loud. He worked there all his life, the poor man. No wonder he died at
44."
Alice caught a break.
"My mother came with me to the office. . . (and) when she spoke to the man, she told him that she preferred that I didn't work in one of the places where men and women were working together. She wanted me to go where there were only girls. So I got
into the cloth room, where it was nice and quiet."
When Amoskeag went under, in keeping with what she had been taught by her parents, Alice found a job with the Works Progress Administration. In later years, she worked in the electronics industry and eventually, she landed a job as housekeeping
supervisor at the Elliot Hospital.
"The only thing I ever did was work," she said.
Actually, this remarkable woman did much more.
She set aside her dreams of an education to make sure her brothers -- Aime and Lorenzo -- were able to continue theirs and, ultimately, they realized their own dreams of entering the priesthood.
In 1939, Alice married Marcel Olivier. They raised a daughter, Elaine Duclos, and two sons, Julien and Michael Olivier and although Marcel died in 1998, Alice lived on to enjoy her 12 grandchildren and her six great-grandchildren.
She was a member of the Association Canado-Americaine and the St. Anne Guild and L'Union St. Jean Baptiste. She worshipped at St. Augustine and later at St. Joseph Cathedral. She sewed and she knit and she quilted and in 1999, she was asked to
represent New Hampshire at the Smithsonian Folklife Festival in Washington, D.C. where she demonstrated the art of traditional Franco-American cooking.
Oh, and she did one more thing.
She went back to school.
Yes, Alice Marie (LaCasse) Olivier was in pursuit of a long-delayed dream when she enrolled in the city's Adult Education Program.
She realized that dream in 1976 when -- at the age of 60 -- she earned her diploma from Manchester High School Central, and just for good measure, you should know that she was the valedictorian of her graduating class.
Alice died Jan. 31 at the age of 88.
Fortunately, her life story -- shaped as it was by the corporation whose blood still runs through the veins of this city -- lives on in the pages of "Amoskeag: Life and Work in an American Factory-City."
John Clayton's latest book is a collection of veterans-related stories titled "New Hampshire: War and Peace." His email address is jclayton@theunionleader.com