UMFK preparing for grand opening celebration of Acadian Archives/Archives acadiennes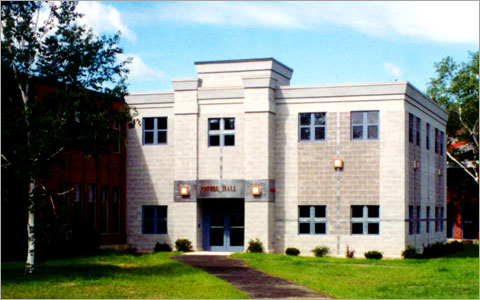 The new Acadian Archives/Archives acadiennes building at UMFK will be dedicated on Friday, September 17.
Fort Kent - A ceremony to mark the official opening of the new building that will house the Acadian Archives/Archives acadiennes at the University of Maine at Fort Kent is being planned for Friday, September 17, 2004 at 3:00 p.m.
Scheduled to take place during the University's annual "Come to Campus Days" festivities, the opening will be as much a celebration of the new facility as it will be a fête honoring the regions unique Acadian culture.
Music, food, decorations, the ceremony and even tours of the new facility will all showcase the Valleys Acadian heritage.
"The Acadian Archives building symbolizes our roots and close ties to our local community. The building will serve as the preeminent site for scholars of our unique culture and for genealogy researchers alike," said President Cost. "Preserving and celebrating our Acadian culture is one of the cornerstones of our mission," added Cost.
The $1.4 million, 7,584 square foot, two-story Acadian Archives building was constructed to connect Powell Hall, an existing residence hall and the Blake Library.
The state-of-the-art facility includes a conference room, reading room, work room, Archives reference desk, a bank of computers, research materials stacks, and Archives personnel space on the first floor. The second story consists of a collections area, accessioning room, and administrative offices for university information resources personnel.
The project was made possible by Maine voters who passed a $36.7 million higher education bond in November 2001, which included $3.2 million for UMFK to purchase technology for Nadeau Hall, to renovate Cyr Hall, and to build the new Acadian Archives facility.
With the additional efforts and support of Maine's Congressional Delegation, the University of Maine at Fort Kent also received $425,000 to assist in the construction of a new building to house the Archives and to preserve documents and artifacts within the facility.
The Acadian Archives was founded in 1990 at UMFK to document, preserve, celebrate, and disseminate information about the history and cultural heritage of Maine's St. John Valley.
The Archives collects manuscripts and audio/visual materials relevant to the history, folklore, and folk-life of the region. It also has a library of reference books and other publications, including U.S. and Canadian census records for the Valley and microfilm editions of local newspapers.
The Acadian Archives project was designed by Port City Architecture of Portland. Aroostook County construction firm J.P. Martin and Sons of Caribou constructed the facility.