Ethnic flair
By SELENA RICKS, Portland Press Herald Writer
Copyright © 2004 Blethen Maine Newspapers Inc.
Query posted online:
Have you decorated a room or section of your home with an ethnic theme? Home & Garden reporter Selena Ricks is looking for homeowners who have incorporated ethnic decor from cultures such as Asian, African, Middle Eastern, Native American or other ethnicities to spice up their living spaces.
Response:
Message
From: Rhea Cote
Subject: Ethnic Theme
To: sricks@pressherald.com
Thursday, September 9, 2004 8:51:36 AM
Hello, In response to your enquiry below, I have decorated my kitchen with articles that have French writing on them. I am Franco-American and I have searched high and low for a canister set that has French words on it...as well as a Bread Box that says "Pain". There are cups that are displayed with French phrases. Also, urns that express tea time in French. The colors are also bold, red counter top, which I inherited...and also the wallpaper, black and white bistro check. There is a border of cherries that encircles the soffit above the cabinets. The inclusion of French text articles is expressly done to surround myself with a reminder of the language which was my first language and the feeling that the words evoke.
Great question!
Rhea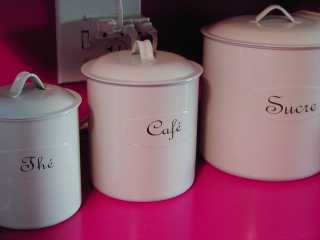 ----------
Part of the article printed as a result:
REMINDERS THAT EMPOWER
About three years ago, Rhea Cote Robbins decided the kitchen in her Brewer home needed a foreign accent to reflect her Franco-American heritage.
Cote Robbins was raised in Waterville, and French was her first language. But as a teenager, she rebelled against her parents and took less pride in her French roots.
As a young woman, Cote Robbins became curious about the Franco-American history of Waterville, but she says she found nothing on the subject in the local library at the time.
She is now a published author, instructor of Franco-American women's studies for the University of Maine's continuing education program and founder of the Franco-American Women's Institute.
Cote Robbins has examples of her renewed cultural pride on display in her kitchen, the focus of the French home, she says.
"I wanted to create an atmosphere that would remind me of the culture, not just of the memory, but how it makes itself new," said Cote Robbins, a 51-year-old mother of three adult children.
She scoured antique stores and flea markets in Maine and Quebec and searched online auction sites looking for kitchenware with French writing or artwork.
A three-piece canister set for sugar, coffee and tea with French labels and a matching bread box were a surprising discovery from a catalog.
"It's not easy," said Cote Robbins of finding affordable Franco-American housewares.
On her apple-red countertop, Cote Robbins has cups, tins, china and urns that either depict a bistro scene or offer French proverbs that remind her of her mother's wisdom.
Cote Robbins has other French items in her home, such as a map of L'île d'Orléans Island in Quebec over her fireplace, but her collection is mostly confined to her kitchen to illustrate her interest in the lives of Franco-American women.
"Even though this is a private space in my kitchen, it empowers me," said Cote Robbins. "There is a satisfaction from having an environment shaped by French as opposed to English themes. My sensibility, and what is more 'home' to me, is French."
For Morell and Bowdoin, whose ethnic decor reflects cultures other than their own, bringing a taste of the world into their home reminds them of their experiences as travelers.
"There's a process of immersing yourself in a cross-cultural experience," said Bowdoin of shopping in foreign marketplaces. "I often pause and admire something I have. There's a story behind everything in our home."