Amid 1850s prosperity, a death and innocence lost
"Nor was Mary Bean really the person people thought. Her sister identified her as Berengera Caswell, a [woman]* who had left home to work in the mills in Manchester, N.H."

By SETH HARKNESS, Portland Press Herald Writer
Wednesday, January 19, 2005

Copyright © 2005 Blethen Maine Newspapers Inc.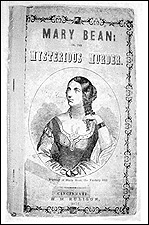 Staff photo by John Ewing
A paperback book published in the early 1850s tells the story of Mary Bean's murder in Saco. History professor Elizabeth De Wolfe plans to publish her book on the case next year.
SACO -- In the spring of 1850, residents of Saco discovered the partially clothed body of a young woman bound to a plank and floating in a stream near where the city's police station stands today. An investigation quickly revealed that the woman, identified as Mary Bean, a 20-year-old factory worker, had been pregnant and died of a botched abortion. The board to which she was tied was a perfect match for one that was missing from the barn of a local physician, James Smith.
The case drew attention from newspapers across New England and showed the world a darker side of the mills that had recently become the economic engines behind the rapid growth of Saco and Biddeford.
Though it has long since passed out of popular memory, the story of Mary Bean was revisited recently by a University of New England history professor.
Elizabeth De Wolfe, an associate professor of history, says the story of this factory girl provides a lens for understanding the wrenching changes of 19th-century industrialization.
"The murder of Mary Bean reveals what was simmering beneath the surface of a no longer serene Saco," De Wolfe said.
De Wolfe said the mills' promise of prosperity was tempered by the drawbacks of rapid growth in Biddeford and Saco, where the population doubled between 1840 and 1850.
She said the reactions to Bean's death illustrate attitudes toward the proper place of young women at a time when many parents had deeply mixed feelings about seeing their daughters go off to work.
De Wolfe did much of the research for her upcoming book on Mary Bean at the Dyer Library in Saco. On Tuesday, she presented her findings at the library to about 40 members of the Saco Historical Society.
James Smith was tried in 1851 and sentenced to life in prison for the death of Bean. He appealed and was released on a technicality after serving only two years. The trial, however, gave Saco residents many new insights into their own community.
The man they knew as a doctor, for instance, turned out to have no medical training whatsoever.
Nor was Mary Bean really the person people thought. Her sister identified her as Berengera Caswell, a [woman]* who had left home to work in the mills in Manchester, N.H.
There, she met a young man from Saco, got pregnant, then followed him to Maine, where he arranged for her to take on a false name and see Smith for an abortion.
The trial was a loss of innocence for Saco residents, proving they often no longer knew or could trust their neighbors. It also confirmed many of the worst fears of the rural families who were sending their daughters off to the mills, De Wolfe said.
Evidence introduced at the trial included an inventory of Bean's clothing, jewelry, and a calling card from an unknown man, all of which could be construed as poor reflections on her character, De Wolfe said. In a sense, she was on trial, too.
"The detailed attention to Berengera's clothing is a clear indication of another problem people saw with mill girls - they were just too darned independent," she said. "The implication was, it was in part her fault."
Bean's case inspired a work of fiction published even before Smith's trial ended.
"Mary Bean, The Factory Girl, The Victim of Seduction" offers another indication of how Bean's case resonated with the public, De Wolfe said. The story uses Bean's death to deliver a heavy-handed moral lesson that the world of capitalism is no place for young women.
"The assumption here is if you're single, you're feminine, and you're in the working world you are also having sex - and that's going to kill you," she said.
After De Wolfe's talk, Saco Historical Society President Frank Wood said he had been familiar with the basic facts of Bean's death, but the professor gave him much more to consider.
"To me, it was just a murder," he said.
Wood said the Dyer Library contains a wealth of diaries, photos and town records from the 19th century.
De Wolfe plans to publish her book about Mary Bean next year.
*Correction: I saw that you posted the Portland Press Herald article about my research on Mary Bean on the Franco-American Women's website. Thanks for the visibility---but I did want to let you know that the newspaper reporter was in error. Berengera Caswell was not French Canadian, she was Anglo. (He reported his story by covering my talk and I think assumed when I said she was from Canada and worked in the mills that she was Franco, but at the time she was working in the mills the population was still predominantly New England Farm girls. Her parents were both from New Hampshire; they were Methodists). Anyhow, I appreciate the posting but didn't want to perpetuate the one error in an otherwise nice article. So feel free to remove it (or add a correcting footnote!) if you'ld like from your website.