I Remember Grace Metalious
By Lynne Snierson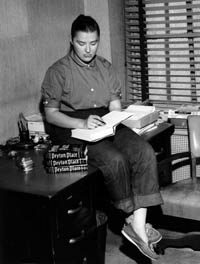 While covering sports all over the country for many years, people I encountered were amazed to meet someone reared in the small state of New Hampshire. They were positively fascinated to discover I had also grown up around the larger-than-life Grace Metalious.
The woman who wrote Peyton Place back in the 1950s on a manual typewriter, perched on her dining room table in Gilmanton, was the friend and client of my father, the late Judge Bernard Snierson of Laconia. Grace and my dad were so close that even though she predeceased him by some 25 years, the Associated Press and USA Today identified him in the lead sentence of his obituary as her attorney, when he died in 1988.
Right up until his own death my dad was queried by prominent journalists, distinguished scholars and everyday people about Grace, who also wrote three other novels, and who saw her work published world-wide and made into Hollywood movies and a network TV series.
They certainly had asked the right person. My dad wasn't just her lawyer, he was her advisor, confidant, and true friend. His genuine affection, care, and concern for her was considerable. He understood her complexities, and greatly admired her as a writer and as a human being.
Grace died at the age of 39 in 1963 when I was just 11. Grace drank herself to death. She once told my dad, "I looked into that empty bottle and I saw myself." While the world remembers Grace for her enormous talent, I remember her for the joy she gave.
Grace assuredly sparked this little girl's life just as brightly as the lights on the marquee of the old Colonial Theater on the night "Return to Peyton Place" premiered in Laconia.
At first, I was crazy about Grace because my dad was, and he was my idol, hero, role model, and absolute favorite person in the world (he still is...). Then, I grew to love Grace for herself, and she became a hero and role model in her own right.
Grace visited often, and I was accustomed to the lilt of her laughter around my house, as well as to giving up my room when she'd had a few too many. But it was my sleep-overs at her house that were really something.
With the three Metalious kids - Marsha, George, and Cindy - and Grace's favorite niece Suzy about, there was always somebody fun to play with. And there were all kinds of unusual amusements, including a live alligator kept in a special room under simulated tropical conditions.
Obviously, Grace's house wasn't like anyone else's. It was a place of wonder and fascination, with all sorts of interesting people coming and going and lending their energy. Grace had a very beautiful and special spirit, and as it was unbridled, it filled her home and surrounded her like an aura.
She was gregarious, and was she ever generous. She had grown up as Grace DeRepitigny in poverty in Manchester, and she loved sharing the luxuries she earned. Too many people took terrible advantage of her kindness as they depleted her resources, but I can still see the happiness in her smiling eyes when she gave someone a gift.
One of the beneficiaries was me. Since my family is Jewish, Grace included me in her family's celebrations of the Christian holidays. Live bunnies or a puppy were my gifts at Easter, although my parents insisted they be returned. Fortunately, I was allowed to keep the beautiful Madame Alexander dolls Grace presented to me at Christmas.
But the best gift she ever gave me was her example.
Grace was bright and free-spirited. She was her own woman when it was not only unpopular, but unheard of. She allowed no one to hold her down, and she never let her lack of a college education keep her from writing one of the most critically and publicly acclaimed American novels.
Moreover, she wrote with a real woman's voice. The women in her books had shape, substance and soul. They swore, they had sex (and they enjoyed it, too). They were three-dimensional - very unlike the way women were supposed to be portrayed in the '50s. Grace could really tell a tale. With Peyton Place, she rocked the literary world, and most of Belknap County. It sold more copies than any novel in American history prior to 1960.
Because women weren't supposed to write so-called dirty books back then, Grace took a lot of heat. The criticism of false friends and neighbors hurt her deeply. Since Peyton Place was so exquisitely crafted, some even raised questions as to the authenticity of her work.
My dad told me he once left Grace alone in his law library with nothing but a typewriter and a ream of paper, and asked her to write something. Attired in her trademark flannel shirt and jeans, she banged out a short piece with her characteristic fine style. When he read it, Dad knew she alone wrote Peyton Place.
My dad stood up to her detractors and stood by her through all the joys and heartaches, the marriages and divorces, and the triumphs and the tragedies. Grace's life was short, but she lived it, and wrote about it, with great passion.
Grace was an extraordinary woman and a celebrity of global proportions. She is recognized today as America's first feminist author. Her work is taught in literature courses all over the world.
I know Grace would be so proud, and I think pleased, that I grew up to be a writer instead of a lawyer.

Story by Lynne Snierson, a Laconia, native who has traveled the country as an award-winning sports writer and television commentator. She is now director of marketing and public relations for Rockingham Park race track, Salem.
----------------------------------------------------------------------------
Feedback to: publisher@nh.com Copyright © 1995-1996 P.D. Design, Inc, All Rights Reserved