Exhibits at Farnsworth a compelling study in contrasts
Celeste Roberge: "Quarry" and Alison Hildreth: "Lost Stories," through June 9 at the Farnsworth Art Museum in Rockland.

By Kristen Andresen, Of the Bangor Daily News Staff
Saturday, March 23, 2002
One's work is grounded, solid, heavy and tied to the earth. The other's is light, ephemeral, ready to fly away or at least break free of the strings that tie it down. Together, the mixed-media paintings and installation by Alison Hildreth, a Maine College of Art professor, and the sculptures and drawings by Celeste Roberge, a professor at the University of Florida in Gainesville who spends part of the year in Maine, are a compelling study in contrasts.
The faraway sound of steam forcing its way through cracks in the earth beckons you into Roberge's "Quarry," where mason-perfect stacks of slate and keystone replicate a hearth, a campfire, an old stovetop. The sizzling sound of steam comes from a tiny TV set embedded in the stove-like "Stacks for Home and Office: Hot Pots." On top, two cast-iron frying pans hold "bubbling" pools of cast aluminum and bronze. In the other two pans, photo transfers of volcanoes float on top of a thin, slick coat of shiny metal.
The theme continues in her other "stacks" ó "Hearth," which looks like a fireplace with no place for a fire, and "Volcano," a layered cone built of red slate and cast-iron pans with a pot full of rocks on top. Through the stacks, Roberge attempts to bring the vastness of Maine's slate quarries and Iceland's volcanoes to a workable scale by turning these giant pits and mountains into domestic metaphors.
She brings the two together in "Quarry," a series of intricate drawings of Iceland punctuated by slate shards nailed into the walls. In the piece, Maine's abandoned slate pits find common ground with Iceland's ever-changing, always new landscape. Though the basalt volcanoes thrust upward and the slate quarries spiral downward, the two are inherently one with the earth.
Not so with Alison Hildreth's "Lost Stories," which are about leaving the earth. She creates a language of symbols ó bats, puppet strings, disembodied hands, beehives ó that ties the mixed-media paintings and glass assemblage together.
Hildreth's "Metamorphosis" is the centerpiece of the show, a large-scale mobile of glass bats, metal-wrapped optical lenses and a paper-and-balsa airplane suspended from the ceiling with wire. On the bottom, a few stray bats float in a pool full of water. The piece is fascinating, and the glasswork, done by Ernie Paterno, reflects the delicate-substantial balance that Hildreth establishes in her paintings.
Through translucent layers of wax, paint and paper, Hildreth conveys the transience of experience and the permanence of family. She tells the "Lost Stories," the repressed or hidden tales that bind us. In "Beekeepers," photocopied portraits of her grandparents are suspended in a honeycomb web while blue hands manipulate faceless puppets from the sidelines. A crowd of shrouded onlookers watches as one puppet plunges into a fire. The "strings" that control the puppets are actually thin ribbons of paper, covered with handwriting and wax.
In addition to the large-scale paintings, a group of 60 smaller panels tells its own stories. A checkerboard has bats made of screws embedded into its thick, waxy surface. A flock of birds spirals like a tornado against a deep green background. A strung-up human form is suspended against technical sketches of wings that look like a page from Leonardo's sketchbook. Alone, they are interesting, together they're riveting.
Alison Hildreth will give an artist's talk at 3 p.m. Sunday, April 7, and Celeste Roberge will give an artist's talk at 3 p.m. Sunday, May 19, at the Farnsworth Art Museum. For information, call 596-6457.
Example of Roberge's work: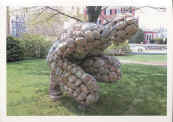 Celeste Roberge, Rising Cairn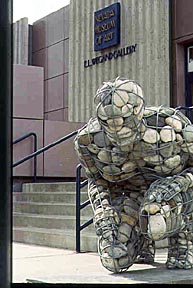 Cairn, A Sculpture by Celeste Roberge at the Nevada Museum of Art