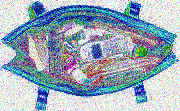 The Curse of the Purse

I couldn't find the aspirin in my purse tumbled mess, over-crowded business papers, eye glasses, tampons, pads, notes, sanitary napkin, family photos, licenses to fish or drive and I remembered
my mother died
because
my father
could not
find
her nitroglycerin tablets
buried in her
Woman's Life
Burden. Her Purse.
A man lost in a woman's landscape
totally helpless
when faced with the
quintentially female
terrain
symbolized by
a purse.
When he died
almost two years
later
I was given
her pedestrian effects
such as her daily purse
A shrine of
crumpled tissues
lipstick kissed
an old habit of hers
lint
the occasional paper clip.

I peered into
the purse
coming to terms
with my mother
who she was
scattered
hurried
harried
A grocery list
with numbers
scribbled
on the back
as proof to her old-fashioned
husband where
she had spent "his" money
all added
neatly
accurately
numbers at random
as living and dying
can be.

I found
lost in the torn lining
of the purse
the tablets of nitroglycerin.
Rhea Côté Robbins