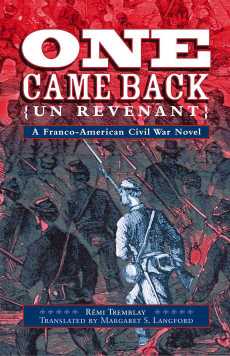 (for a larger view, click on cover)
One Came Back (Un Revenant)
FRONT LINE REPORTS FROM COLD HARBOR,
PETERSBURG AND LIBBY PRISON
What was it like for a sixteen year old soldier in some of the most famous battles and infamous prisons of the American Civil War? In 1863 the teenaged French Canadian Rémi Tremblay crossed the border in search of adventure to enlist in the 14th US Regular Infantry. He fought in the battles of Spottsylvania Court House, The Wilderness, Cold Harbor, and Petersburg, and was imprisoned in Libby prison. Twenty years later in 1884, by then an accomplished journalist and man of letters, Tremblay told his story in the romantic novel Un Revenant.
Part autobiography, part melodramatic love story, Un Revenant was one of nine novels by Franco-Americans reprinted by the National Materials Development Center, but it was still accessible only to those who read French. Now it has been published for the first time in English as One Came Back: A Franco-American Civil War Novel in a meticulous translation by Dr. Margaret S. Langford in collaboration with Dr. Claire Quintal .
One Came Back is a lively and engaging period novel actually written during the period. It is for Franco-Americans, who may choose to read it side by side with the original French; for Civil War buffs in search of first hand accounts of the war; and for those who simply enjoy traveling back to other times and places.
Images from the Past is an independent press based in Bennington, Vermont that specializes in regional books on historical topics of national and international interest. It publishes this history in ways that help people see it for themselves. One Came Back is the third Civil War book from this press, following Letters to Vermont from Her Civil War Soldier Correspondents to the Home Press vols 1 and 2 (1998) edited by Don Wickman. The 320 page 6îx 9î One Came Back includes a Foreword by folklorist, writer, and journalist Julien Olivier; Introduction by Margaret Langford; Tremblayís portrait and six period engravings; Chapter Notes; and Bibliography. It is available in both hardcover ($35.00) and paperback ($18.95) at bookstores and direct from Images from the Past at 888-442-3204 and online at www.ImagesfromthePast.com.
For more information: Tordis Ilg Isselhardt
888-442-3204 or tordis@ImagesfromthePast.com
One Came Back (Un Revenant)
Rémi Tremblay; translated by Margaret S. Langford in collaboration with Claire Quintal
Written in 1884, this romantic and stirring adventure novel is part autobiography, part melodramatic love story. Rémi Tremblay was a French-Canadian author who turned his own experiences as a teenaged enlistee in the Civil War into a story of two fascinating heroes, Léon Duroc and Eugène Leduc, underage French-Canadians who enlist in the Union Army. One Came Back captivates the reader with its romantic tales and adventures of its main characters and its searing battlefield and prison scenes. Tremblayís extraordinary and realistic portrayal is a result of his having served in the 14th US Regular Infantry, fighting in the battles of Spottsylvania Court House, the Wilderness, Cold Harbor, and Petersburg; his description of the infamous Libby Prison in Richmond, Virginia, is based on his imprisonment there.
In the Foreword, Julien Oliverófolklorist, writer, and journalistódeclares that ìin translating Tremblay into English, Margaret Langford has made available to students and Civil War buffs alike a new and insightful resource that had remained otherwise unavailable to them. One Came Back can now take its place on reading lists both literary and historical.î
ABOUT THE AUTHORS:
Rémi Tremblay (1837-1926) was born in 1837 in Saint-Barnabé, Québec, Canada. When Tremblay was 12, he emigrated with his family to New England where they found work in the mills. Within two years the family returned to Canada, but in search of adventure, Tremblay walked across the border to enlist in the 14th US Regular Infantry when he was 16. After the war, he became a successful journalist, editor, translator, poet, and novelist. Tremblay wrote Un Revenant in 1884 based on his Civil War experiences as a teen-ager.
Dr. Margaret S. Langford is a professor of French at Keene State College in Keene, NH. Her sabbatical leave projects in 1984 and 1992 focused on oral interviews and research on Franco-Americans. In 1999 her leave was devoted to One Came Back/Un Revenant. Since 1996 she has interwoven research, publications and presentations on this work. In 1992, the American Association of Academic Alliances honored her for outstanding contributions to the teaching and promotion of French as a second language. In 1994, the New Hampshire Association for the Teaching of Foreign Languages selected her as teacher of the year. In 1998, she received the New Hampshire Excellence in Education Award. She is a member of the American-Canadian French Cultural Commission in New Hampshire and of the French Institute at Assumption College, and is incorporator of the Franco-American Centre in Manchester, New Hampshire.
Dr. Claire Quintal is the founding director emerita of the Institut français of Assumption College. Founded in 1979, the Institute, which has published the proceedings of its colloquia, launched in 1980, is considered to be the foremost research center of Franco-American history and culture. To date, sixteen volumes edited and/or translated by Claire Quintal have appeared. She was awarded the Legion of Honor and named an Officer of the national Order of Merit by the French Government. She is a member of the Conseil de la Vie Française en Amérique and chairs the American and Canadian French Cultural Exchange Commission of Massachusetts.